This week I was very pleased to introduce you to the great Iranian artist Azadeh Ardalan. A self-taught artist, Azadeh Ardalan studied languages and literature and her self-criticism in art has allowed her to find her own way to paint. Influenced and inspired by cinema and literature, her work takes us into many interior and daily life scenes. Great colourist, Azadeh has also an excellent sense of decorative. Patterns, objects and characters are perfectly matched and she takes us to places that are timeless. 

With Azadeh we discussed about the themes of her work, her attachment to nature, the decorative aspects and how expressive colours exalt all of this.
This interview is placed under the sign of colour and, thanks to her great technique, you will appreciate how the artist perfectly manages, in the same composition, to make dialogue between powerful flat colours and detailed patterns.


Could you introduce yourself ?
I am born in Iran. I have always liked to learn different foreign languages. My passion for learning different languages led me to know more about the cinema and literature of various countries. After diploma I decided to pursue my studies in languages and literature at Bologna university. I am a self-taught painter. Building a self-critique in art throughout the years helped me to find new ways in painting.
" I paint mostly from imagination although I sometimes use real models and objects which i change them gradually during the process of the painting to make them fit in to the atmosphere of the final work. "
.
I notice that in every painting you depict a character alone in an interior. The character is always depicted in a daily life scene. And if there is an other character, it is an animal but not an other person. Could you speak about this choice of composition and speak about your link to the animals? What do you want to translate with these scenes ?
My current works depict mostly human figures who are sitting or standing in interior spaces. The figures are situated within a scene and the management of spaces around the figures is an important element in my current works. In these works there are sometimes elements of nature, a vase of flowers, a window with a view to the nature or an animal inside the room or out in the nature. This happens somehow unconsciously. The reason for it ,i think, is that i have always been interested in the nature and felt connected to it. I think these element match the atmosphere of my works.
If there is always a portrait in your interior scenes you seem to represent more in detail the elements of the decor than the character. You create many great motifs highlighted with expressive colors. Could you speak about the decorative elements ? 
My current body of works feature human figures in interiors. These figures are usually placed in a room in which there are elements of daily life such as tables, chairs, rugs and other objects. I like when all the objects and figures have an harmony together and are situated in the right place. I usually choose a vast colour palette and all the decorative elements in my paintings work as the vehicle for my intentions to use various colours and hold a harmony among the elements and colours in my paintings.
Do the models and the decorative scenes come from your imagination or are they from real places and models? Could you share with us your artistic process? 
I normally have an obsession with the placement of the figures and objects in my paintings. I paint mostly from imagination although I sometimes use real models and objects which i change them gradually during the process of the painting to make them fit in to the atmosphere of the final work.
You use expressive colors and the colors of the scene and the characters seem to mingle. What do you want to underline? 
Colour and composition are two fondamental elements in these works. The use of colour is mostly intuitive and I like to create a harmony between the colours. I have always been interested in using various hues of a specific colour throughout the painting. But I think in some of my recent works there are various contrasts between the figures and objects.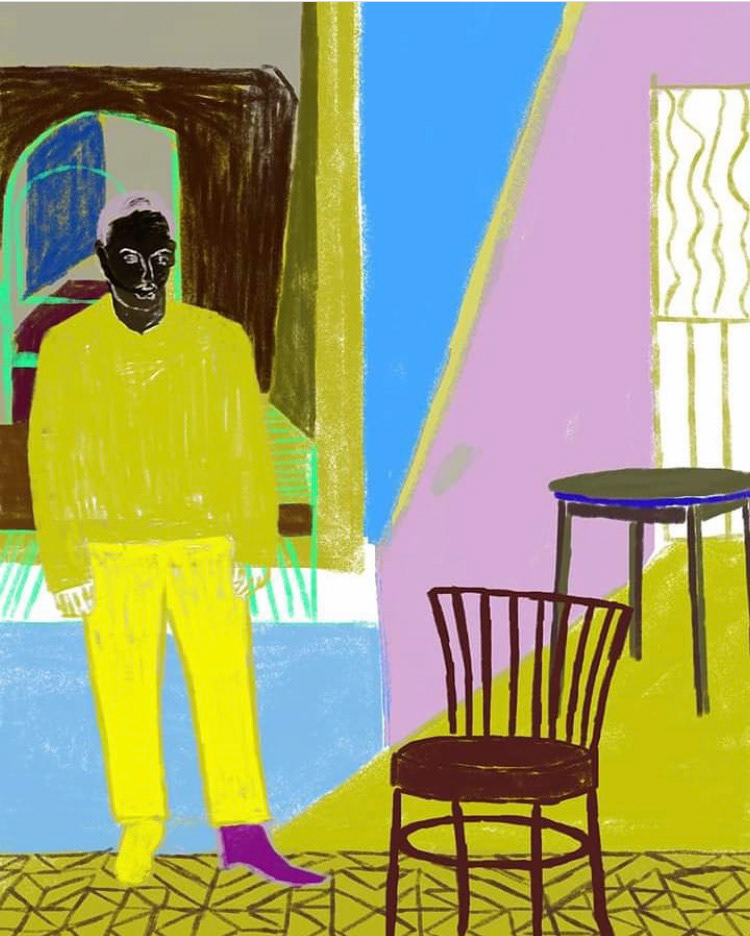 What are your main inspirations ?
I take inspiration from literature, films, poems and things i see everyday. I remember taking acting courses years ago this has helped me a lot to express myself in my practice. I am constantly surrounded by contemporary influences which affect my works often unconsciously.
Do you have any project to share with us? 
At the moment Iam working towards some exhibitions in near future. I am working on a new series of works with different mediums in larger scales.
To discover and find all the artworks of Azadeh Ardalan go to her IG account :