Des portraits féminins qui pourraient sortir de leurs toiles majestueuses et grandeur nature, l'œuvre d'Ania Hobson est une véritable expérience à vivre. S'inspirant de son entourage et de sa vie quotidienne, la jeune artiste britannique s'impose sur la scène artistique par des représentations à la facture très singulière qui dessine des figures captivantes et expressives. L'inquiétante étrangeté qui se dégage de ses toiles, renforcée par son usage de points de vue photographiques et d' associations de couleurs, lui a valu de remporter le prestigieux prix du BP Portrait Award de la National Portrait Gallery de Londres en 2018. Cette semaine Ania Hobson nous plonge dans son oeuvre, nous donne des clés de lecture pour l'appréhender et nous révèle combien chaque étape de sa création est importante pour elle. Une peinture où l'expérience du spectateur prévaut sur le travail mimétique des détails.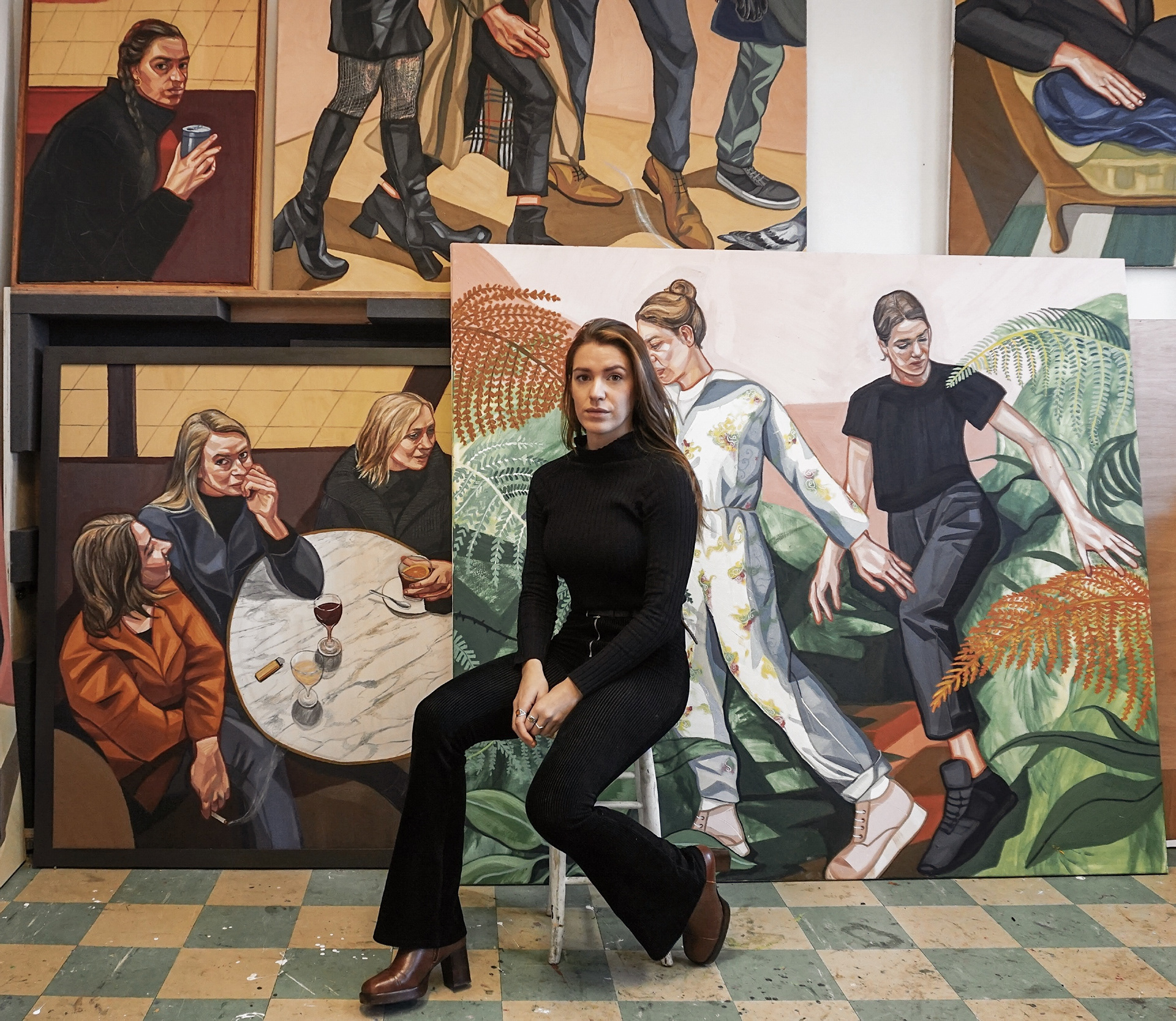 Could you introduce yourself ?
I'm Ania Hobson, a contemporary figurative painter based in Suffolk. I've been painting and drawing for most of my life. I went on to do a few short courses after university and nearly failing my degree in Fine Art, so I guess I'm mostly self taught. I now paint full time in my studio on an old American air base. 
A lot of your portraits are in big scale. You depicte daily life scenes of the millennial generation. Could you explain what determined you to adopt this scale in your artworks?
I prefer painting on a larger scale, I find it lends itself to the type of painting I do, mark making is just as important as the portrait itself. I use thick, long brush marks, using this on a large canvas is more of a way for me to get involved in the painting. Painting isn't just about the final piece it's more about the experience and the process of how you got there and learning how each mark is made and what effect is achieved.
Woman is central in your paintings. Do you want to send a committed message through your works ?
I don't necessarily send messages in my paintings, it's more about scenarios and situations, sometimes the situations are partly from my own experiences with hints of them entwined into the work subconsciously. I also just paint for myself. Painting is such a personal thing and a lot of feelings are put into it, your emotions can affect your work, so it's part of me, it develops and and grows. Every painting is a depiction of the same feelings that I would've been experiencing at the time. I paint with my heart.
Your portraits depiction seem to be painted on life by the pose, the action or by the framing chosen as the photograph does it. How do you often process for the creation of your scenes ? Who are the models ? 
Working to life size is my way of making it impactful, I want my ideas to come to life and to lure people, for them to feel the presence of my figures. Working on this size is a way of me getting involved in my work and understanding the painting and use of space. The models are either family members or characters that I have created which I look to myself to make. 
Your paintings are really realistic but your perspective depiction seems to do not always look for it.  Is it a way to counterbalance the practice of traditional painting ?
Painting something realistic, down to every proportion being so precise is far from what I want to portray.
I try to move away from being so perfect with my figures, the more I move away I feel I am gaining more freedom and fluidity with my work and therefore creating more of an abstract feel. 
What were your main inspirations for the creation of your portraits ?
I am inspired by people and my surroundings and personal experiences. I don't like to be too obvious with the figures in what they are thinking or doing, there will be hints of them in a bar or a table with a drink, it's up to the viewer to continue to story in their own way. I feel that people are so fascinated with people watching in general, we all do it. I like to think that my paintings are just like this but they are out there for people to face and confront with their own interpretation. 
We notice that your colour palette is a main link too in your portraits series. The black and the nudes colours come often. Could you talk a bit about it? 
Colour is really important, two opposite colours can clash but can also work. I prefer to keep my tones away from being too primary so I tend to mix my colours to a more earthy, soft tones. I use black as a way of creating space and shapes and to create a barrier from the other colours. Having too many colours can confuse the painting and lose the perspective. 
Your characters are either thoughtful or in interaction with others. And the depiction of the hands have a role to underline this representations. Could have some words about it?  
I used to hate painting hands and would try to avoid painting them, so in my earlier work I would hide the hands in coat pockets for example. I find now that they are just as important as the portrait itself, they add another language that we speak. What we do with our hands really says a lot about who we are, and we use them as alternative way to express ourselves. 
We know you for your impressive portraits but you also work landscape genre. Is it the same creative process ?
Occasionally I like to paint landscapes, I see this more as a breather and taking a break from doing figurative paintings, it's good to keep challenging and swiping your brain to a different subject. 
Despite the situation do you have any projects? 
I am working towards a solo show with the Catto Gallery due In September 5th as well as a few other exhibitions including the Gillian Jason Gallery and the London Art Fair with Thompson's Gallery. 
Toutes les oeuvres d'Ania Hobson sont à retrouver sur son site :
https://www.aniahobson.com